Big Maths
Big Maths at Ropsley Primary School
Guide for Parents and Carers
Big Maths is a teaching programme used at our school to help children become numerate. CLIC lessons take place every day for 15 minutes. Every Friday, your child will complete either a Beat That! or Learn Its test.
CLIC stands for;
C – Counting
L – Learn its
I – It's Nothing New
C – Calculation
Big Maths lessons are fun and the pace is quick. Children work on whiteboards and are encouraged to flash their answer to the teacher. Children need to develop their speed with recalling number facts so they don't have to rely on their fingers or other slower methods.
Counting
Children need to be able to count forwards, backwards and in multiples whilst reading and writing numbers.
When counting at home, it is vital that you not only count forwards but backwards too as children tend to find counting backwards more difficult. Start at random numbers- not just 0!
Learn its
Learn its are addition and times table facts. Children learn these and practise them so that their recall is instant. When asked 'What is 7+3?' they instantly respond with 10!
Children also learn fact families, if they know 4x3=12 they also know 3x4=12.
It's Nothing New
This is a very important step. Children count objects – pasta, cars, bricks etc so that they understand that counting objects can then be applied to more abstract numbers.
They know that 5 'things' and 3 'things' is equal to 8 'things' and can then apply that to 5 tens + 3 tens = 8 tens. This means that children can quickly see the link and apply these number facts to different units such as centimetres, millilitres, metres, grams.
Calculation
This step focuses on fluency and children progress through addition, subtraction, multiplication and division facts. These number facts are mapped out for the children and teachers will work through them, aiming them at the right level for the children in their class, in line with the Maths lesson.
An example of a Beat That! test: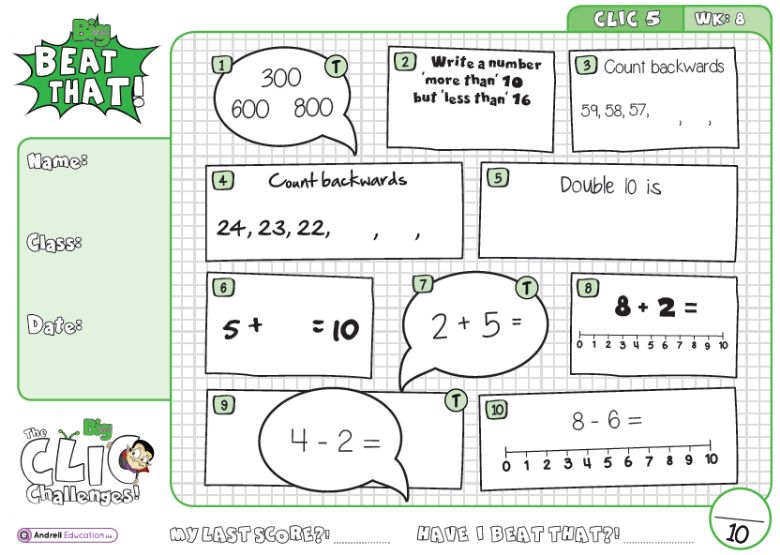 An example of a Learn its test: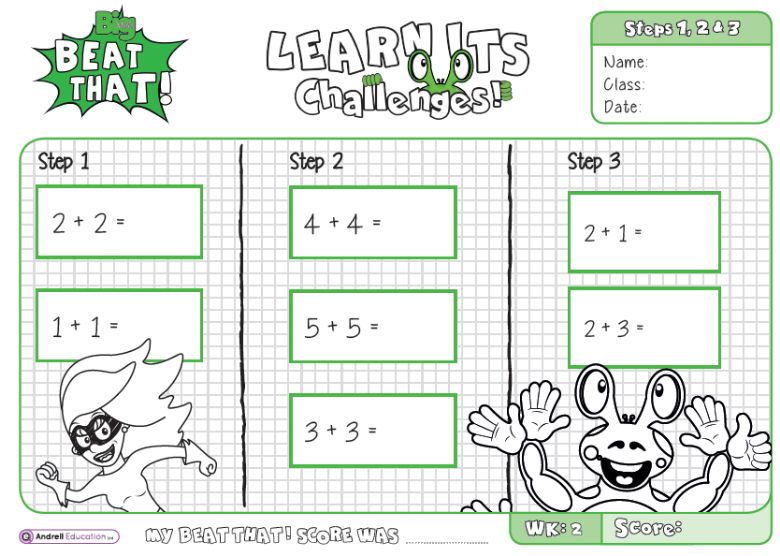 If you need any further advice with Big Maths, please make an appointment with your class teacher or see Miss Langley, the Maths co-ordinator.